Baxter Arena Graduation 2023
Baxter Arena will host 13 high school graduations and 3 university ceremonies during the month of May. Below is specific information regarding each ceremony.
Outside food and beverage, balloons, and noisemakers are strictly prohibited inside the arena. Please see the list of graduations below.
If multiple ceremonies occur in one day, please do not arrive more than 90 minutes before the graduation ceremony time as traffic will be set for those leaving the earlier ceremony. Please note where you park and what entrance you use to enter the arena.
Additional questions can be directed via email to info@baxterarena.com.
All graduates will be directed directly outside the Main or North Entrance following their ceremony. We encourage you to plan a meeting location for you and your graduate.
*Please note, there will be no overnight parking allowed at the arena during this year's graduations*
Click the links below to access Baxter Arena's parking route map and prohibited items list.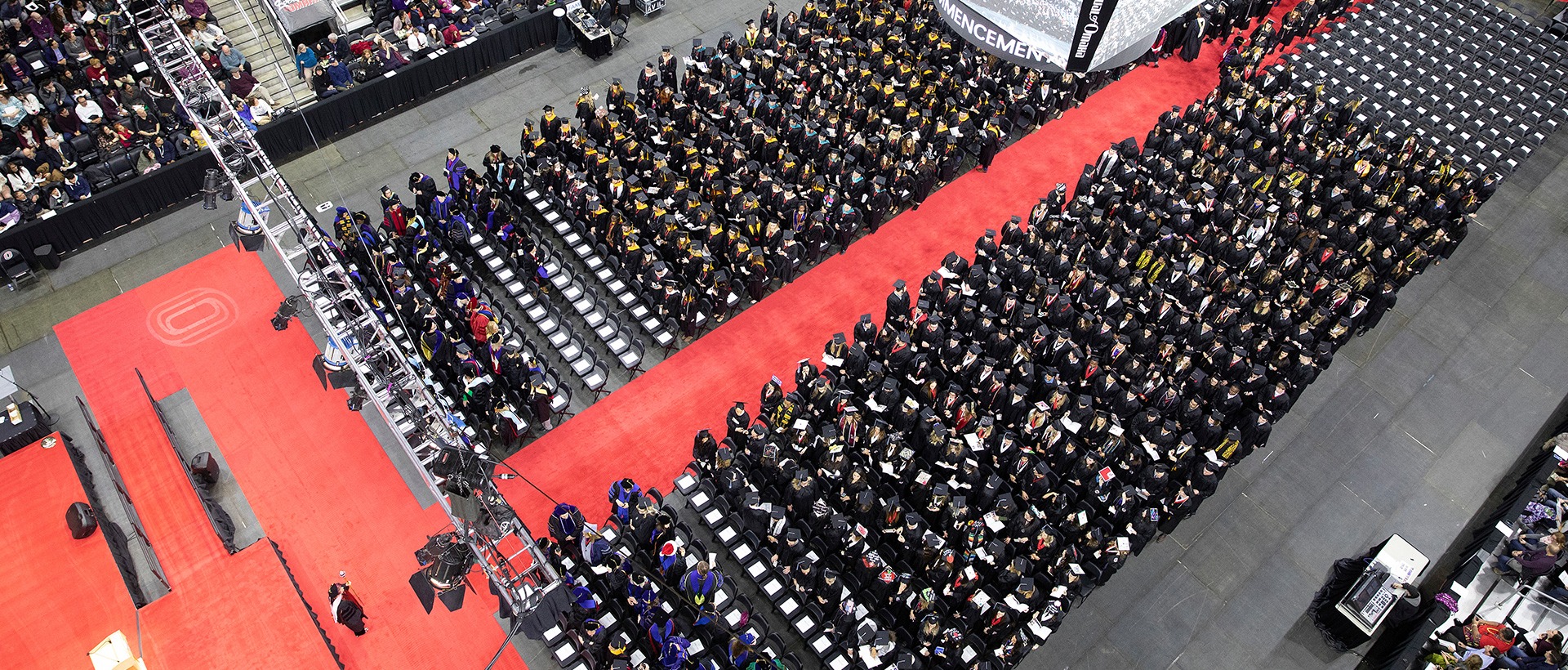 | | | | | |
| --- | --- | --- | --- | --- |
| DATE | DAY | DOORS | START TIME | SCHOOL |
| 6-May | SATURDAY | 8:00 AM | 9:00 AM | UNMC |
| 12-May | FRIDAY | 6:00 PM | 7:30 PM | METRO COMMUNITY COLLEGE |
| 14-May | SUNDAY | 12:00 PM | 1:00 PM | PAPILLION LA-VISTA SOUTH HIGH SCHOOL |
| 14-May | SUNDAY | 4:00 PM | 5:00 PM | PAPILLION LA-VISTA HIGH SCHOOL |
| 19-May | FRIDAY | 8:00 AM | 9:00 AM | UNO – CAS, CEHHS, CFAM, ENG |
| 19-May | FRIDAY | 1:00 PM | 2:00 PM | UNO – CBA, CPACS, IS&T, GRAD |
| 21-May | SUNDAY | 1:00 PM | 2:00 PM | WESTSIDE HIGH SCHOOL |
| 23-May | TUESDAY | 1:00 PM | 2:00 PM | BENSON HIGH SCHOOL |
| 23-May | TUESDAY | 6:00 PM | 7:00 PM | NORTH HIGH SCHOOL |
| 24-May | WEDNESDAY | 1:00 PM | 2:00 PM | BURKE HIGH SCHOOL |
| 24-May | WEDNESDAY | 6:00 PM | 7:00 PM | NORTHWEST HIGH SCHOOL |
| 25-May | THURSDAY | 8:00 AM | 9:00 AM | SOUTH HIGH SCHOOL |
| 25-May | THURSDAY | 1:00 PM | 2:00 PM | CENTRAL HIGH SCHOOL |
| 25-May | THURSDAY | 6:00 PM | 7:00 PM | BRYAN HIGH SCHOOL |
| 27-May | SATURDAY | 7:30 AM | 9:00 AM | MILLARD NORTH HIGH SCHOOL |
| 27-May | SATURDAY | 12:00 PM | 1:00 PM | MILLARD SOUTH HIGH SCHOOL |
| 27-May | SATURDAY | 4:00 PM | 5:00 PM | MILLARD WEST HIGH SCHOOL |