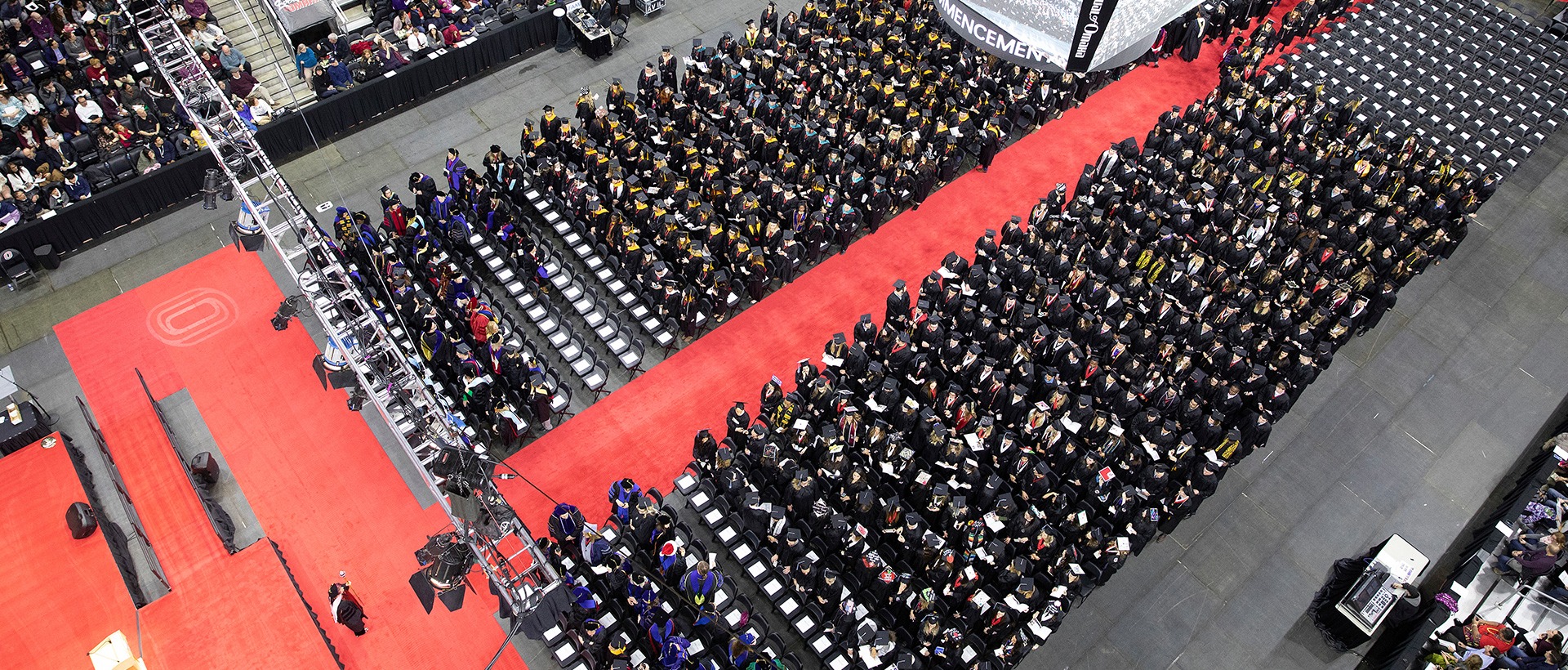 Baxter Arena Graduation 2022
Baxter Arena will host 13 high school graduations and 3 university ceremonies during the month of May. Below is specific information regarding each ceremony.
Outside food and beverage, balloons, and noisemakers are strictly prohibited inside the arena.
Under guidance from the Douglas County Health Department and the UNO Office of Health Security, Baxter Arena has been approved to host in-person May graduation and commencement ceremonies under specific safety guidelines.
Knowing the importance of celebrating this milestone with family and friends, Baxter Arena has worked closely with each participating school to allow for guests based on the number of graduates for each ceremony. Ceremony capacity follows the Center for Disease Control's recommendation of 6 feet of physical distancing, which is also what the Douglas County Health Department health guidance and best practices recommends for public event ticketing.
Signage and floor decals will be located at entrances, security check points, concession stands, and other areas of Baxter Arena to promote physical distancing. Hand-sanitizing stations will also be available at all entrances, concession stands, and throughout various locations in Baxter Arena.
To help protect all guests, employees, and graduates from increased risk to COVID-19, we respectfully request that the following guests do not attend ceremonies in person:
Those who are sick or experiencing flu or cold-like symptoms (fever, cough, etc…)
Those who have diagnosed with COVID-19 and are less than 10 days since their last symptoms by the time of the ceremony.
Those who have been exposed to or in contact with an individual diagnosed with COVID-19 with 14 days of the ceremony.
Unvaccinated guests who have traveled internationally within 14 days of the ceremony.
While we have taken enhanced health and safety measures to protect our venue guests, an inherent risk of exposure to COVID-19 exists in any public space where people gather. COVID-19 is an extremely contagious disease that can lead to severe illness and death.
By entering Baxter Arena, guests voluntarily assume all COVID-19-related risks that come with attending any public event. Additionally, by entering Baxter Arena, guests agree to comply with all applicable laws and directed health measures as well as the safety protocols and procedures complemented by Omaha Athletics and Baxter Arena with regard to COVID-19. Baxter Arena, the University of Nebraska Board of Regents, Omaha Athletics, and any other person associated with this event disclaim any and all liability thereto except in the case of grossly negligent conduct of the foregoing parties.
Additional questions can be direct via email to info@baxterarena.com.
All graduates will be directed outside of the arena at the conclusion of the ceremony. Please meet your graduates outside the Main or North entrance.
*Please note, there will be no overnight parking allowed at the arena during this year's graduations*
Click the links below to access Baxter Arena's parking route map and prohibited items list.
| | | | | | | | | |
| --- | --- | --- | --- | --- | --- | --- | --- | --- |
| DATE | | DAY | | DOORS | | START TIME | | SCHOOL |
| 7-May | | SATURDAY | | 8:00 AM | | 9:00 AM | | UNMC |
| 8-May | | SUNDAY | | 12:00 PM | | 1:00 PM | | PAPILLION LA-VISTA |
| 8-May | | SUNDAY | | 4:00 PM | | 5:00 PM | | PAPILLION LA-VISTA SOUTH |
| 13-May | | FRIDAY | | 8:00 AM | | 9:00 AM | | UNO – CAS, CEHHS, CFAM, ENG |
| 13-May | | FRIDAY | | 12:00 PM | | 1:00 PM | | UNO – CBA, CPACS, IS&T, GRAD |
| 15-May | | SUNDAY | | 1:00 PM | | 2:00 PM | | OMAHA WESTSIDE |
| 20-May | | FRIDAY | | 6:00 PM | | 7:30 PM | | METRO COMMUNITY COLLEGE |
| 24-May | | TUESDAY | | 1:00 PM | | 2:00 PM | | OMAHA SOUTH |
| 24-May | | TUESDAY | | 6:00 PM | | 7:00 PM | | OMAHA CENTRAL |
| 25-May | | WEDNESDAY | | 1:00 PM | | 9:00 AM | | OMAHA NORTHWEST |
| 25-May | | WEDNESDAY | | 8:00 AM | | 2:00 PM | | OMAHA BRYAN |
| 25-May | | WEDNESDAY | | 1:00 PM | | 7:00 PM | | OMAHA BURKE |
| 26-May | | THURSDAY | | 6:00 PM | | 2:00 PM | | OMAHA NORTH |
| 26-May | | THURSDAY | | 6:00 PM | | 7:00 PM | | OMAHA BENSON |
| 28-May | | SATURDAY | | 8:00 AM | | 9:00 AM | | MILLARD SOUTH |
| 28-May | | SATURDAY | | 12:00 PM | | 1:00 PM | | MILLARD WEST |
| 28-May | | SATURDAY | | 4:00 PM | | 5:00 PM | | MILLARD NORTH |